Improving Sleep
Learn more about the little things you can do to sleep better.

Why it's important to get a good sleep
Sleep has effects on our overall health and wellbeing. When we sleep, our bodies go through the processes of healing and repairing. Sleeping well leads to waking up energised and refreshed to tackle your day.
Sometimes, we toss and turn at night, or don't sleep deeply even if we try. This is common, and can be caused by — or result in — stress or anxiety. There are, however, some small steps you can take that may help you get the rest you need.

How does Improving Sleep help?
Improving Sleep is a quick quiz that gets you started on identifying possible problem areas in your sleep cycle. You'll see some recommended healthy sleep tips and can try the ones that suit your lifestyle.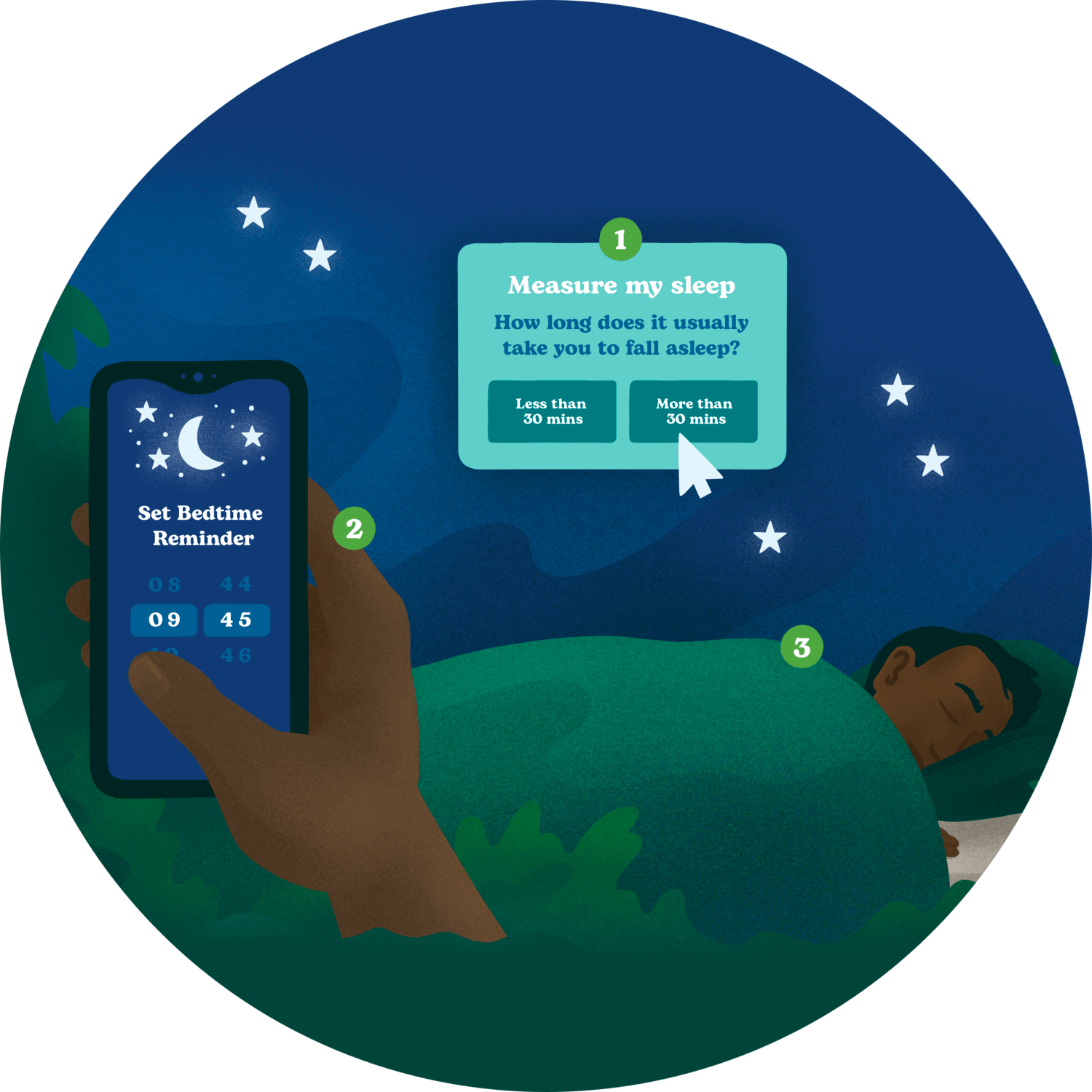 FAQs
What is a sleep cycle?
A sleep cycle generally consists of four stages of sleep:
Before sleep, a drowsy stage when you begin to feel tired.
Light sleep, which is a stage where you're dozing off, and your body is slowing down and preparing for a deep sleep
Deep sleep, when our bodies experience rest and restoration. Deep sleep is said to be essential to a restful sleep. You may find it hard to be woken up when you are in a deep sleep
REM or Rapid Eye Movement sleep. During this stage, your brain is active even while you experience rest. This is often associated with vivid dreams.
Good quality sleep — which includes deep sleep — is restorative and important to your wellbeing. There are things you can do that help you experience good quality sleep more often.

What if I'm still not getting a good sleep?
Your sleep cycle can be affected by age, daily routines, activity levels, or mental distress. While there are tips you can follow that lead to better sleep, things may not improve. In this case, consult a health professional.

Small Steps Toolbox
These tools have been developed to help with feelings of anxiety, stress, or low mood. Each tool only takes a few minutes. Health and wellbeing is an ongoing journey, so try them out and see what works for you.